Spring Opening photos are on the Photos menu!
Important Message From SIBL's League President:
12/28/20
Hello SIBL Families,
I hope this letter finds you all safe and healthy. We the Executive Board have been discussing the thought of having a potential 2021 Spring Season. Due to the ongoing pandemic we cannot say when that day will be. We continue to follow the guidelines and protocols of State, County, and Local government agencies along with the governing boards of Pony Baseball and USA Softball as to when they will deem it safe for youth sports to return. 
With this being said, S.I.B.L will be starting a registration of Interest for families that would want to participate in playing in the potential 2021 Spring season. S.I.B.L will not be collecting any fees at this time, you would simply register at www.siblbaseball.com using the short form on the home page.  Once we receive the clearance to reopen as a league, we will then implement the full registration process and for dues to be paid. We will use this interest list to help us determine how many players, teams, and divisions we can anticipate as well as help us logistically prepare for a safe return for all who visit the S.I.B.L complex. We encourage you to follow our social media outlets as well as look out for emails regarding any registration or league updates. 
As this exhausting, chaotic, surreal year comes to a close, we, the Board of Directors, would like to wish you all a safe, healthy, blessed and prosperous New Year. We look forward to the day we can see you all at the ball field.
Stay safe and healthy,
Bobby Ordona
SIBL President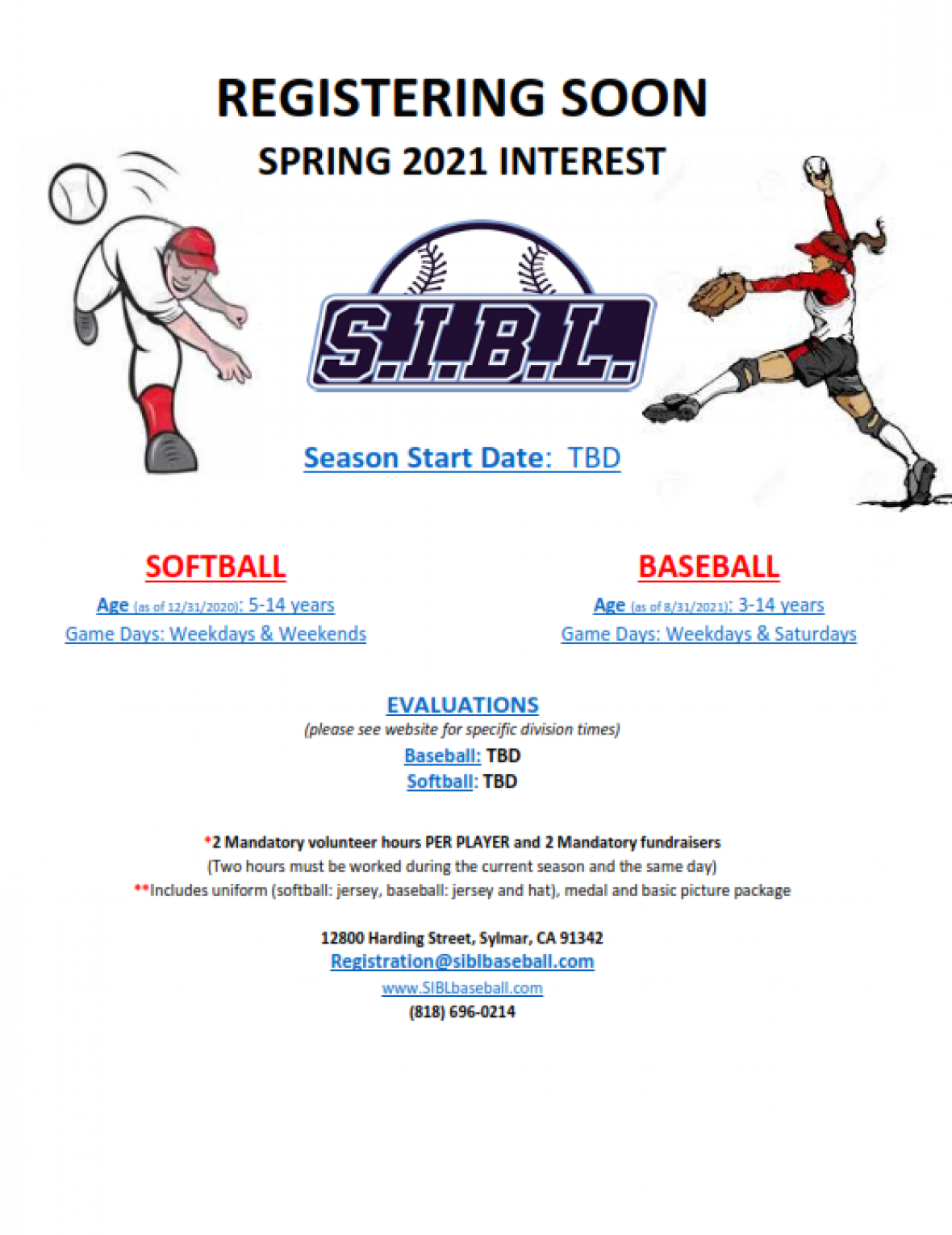 Spring Season Interest Form
Since we do not have final dates or prices we would like to build a list of interested players to help us plan for the season. There is NO OBLIGATION at this time. You will be notified when formal registration is opening.
Please complete this form for each player. This will help us count players interested in each division.
Heads-Up Injury TrainingAll managers and coaches MUST complete Heads Up training and turn in a certificate of completion. All parents are also able and encouraged to take this online course. You will learn to:
Understand a concussion and the potential consequences of this injury,
Recognize concussion signs and symptoms and how to respond,
Learn about steps for returning to activity (play and school) after a concussion, and
Focus on prevention and preparedness to help keep athletes safe season-to-season.
Start the training by clicking here on your PC or phone.
After completion please email your certificate to playeragent@siblbaseball.com or softballcommissioner@siblbaseball.com

SIBL Acknowledges and thanks the following who have assisted us!
Repair Labor and Materials
Financial Supporters
Home Depot – San Fernando

LA County Supervisor Sheila Kuehl

 
JET Concrete – Joe Eddie Trujillo
Martin Auto Color, Inc.
Martin Auto Color, Inc.
Munoz Concrete Pumping – Jose Munoz
Outback Welding - Michael Drummond
Sylmar Graffiti Busters
Sylmar Hang Gliders – Joe Greblo